In February 2021, Jean-François Racine opens the doors of his workshop steeped in history located inside the heritage mill of the Michel stream in Baie-Saint-Paul. Through this medium, make a small foray into his creative universe, you will discover more about the approach and the intrepid adventures of the one affectionately called the skier painter!
The visual art of Charlevoix
Inspired by its grandiose landscapes and its unique light, several generations of painters have frequented the Charlevoix region. This pictorial tradition is still very much alive in Baie-Saint-Paul, a small municipality that has fostered the development of a quite exceptional microcosm for the visual arts.
Jean-François Racine paints with animals
Realization of magnificent artworks by Jean-François Racine, the horses and animals of Ekasringa. An original artistic approach! The exclusive artworks have been auctioned off on October 14, 2017, during the big circus benefit evening! 
Claude Boulet, Hebdo Charlevoisien
Jean-François Racine paints with circus animals
Collective creation sponsored by Rêve d'Automne. The renowned painter Jean-François Racine created a work with the animals of the Ekasringa circus. The paintings were sold at auction on April 8, 2016, for the benefit of the SPCA and the circus.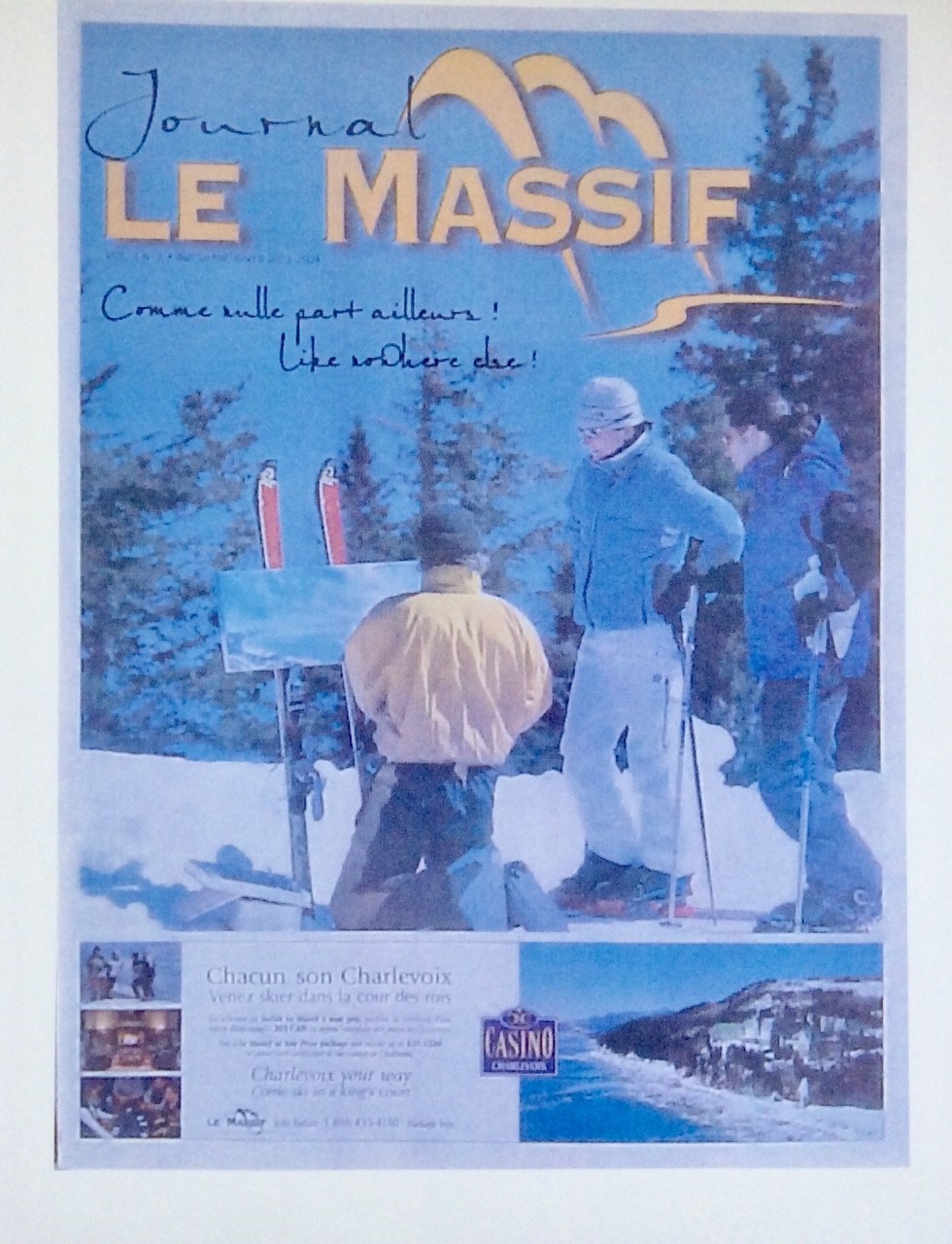 Lise Tremblay, Hebdo Charlevoisien
Pour se rendre à l'école, Jean-François Racine devait marcher 1,2 km soir et matin, sur le bord de la plage à Rimouski. Et ce, beau temps, mauvais temps, en toutes saisons. Sans le savoir, le futur artiste peintre développait ainsi une résistance au froid qui lui permettrait de devenir le premier « peintre-skieur » de l'histoire ! 
« Je ne gèle pas et je pense que c'est à cause de ce traitement-choc là. Un peu comme Obélix quand il tombe dans la potion magique, moi j'ai eu de la brise, de la neige et du vent en masse dans ma vie ! Donc aujourd'hui, ça ne me dérange pas », explique l'artiste, qui peint dans les pistes et sous-bois du Massif depuis six ans.
Bien que le ski et la peinture soient les deux grandes passions de Jean-François, ce dernier n'a jamais cherché un moyen de les réunir. C'est le hasard qui l'a conduit à peindre en montagne : « un jour, je suis parti en voyage dans l'ouest canadien pour peindre et faire du ski. Je me suis rendu compte là-bas que je n'avais pas de chevalet, donc je me suis organisé avec mes skis et j'ai constaté qu'en les piquant dans la neige, j'étais vraiment libre ». En développant sa technique, Jean-François s'est toutefois aperçu qu'il faut avoir plus que de l'endurance et un« chevalet sous ses pieds » pour faire un tableau en montagne.
Les conditions rigoureuses de l'hiver québécois posent en effet certaines difficultés : « le vent est mon pire ennemi, alors je vais de plus en plus hors-piste et dans les sous-bois pour l'éviter. L'autre avantage, c'est qu'il y fait moins froid ». Le mercure pouvant descendre, il est primordial de se protéger : « il faut s'isoler les genoux et avoir des mitaines pour se réchauffer de temps à autre » indique le peintre, qui travaille mains nues pour faire les détails et ne pas perdre de dextérité.
Même la peinture doit être aux petits soins, car l'huile a tendance à figer au froid :« j'utilise un mélange d'huile de lin et d'orange pour diluer ma peinture et si c'est glacial, je met un sachet chauffant (hot pad) sous ma palette pour la garder à une température convenable ». Et la neige ? L'artiste assure que ce n'est pas un problème, car les flocons collent sur la toile, mais ne l'abîment pas : « quand mon tableau devient blanc, je le porte à l'intérieur et je le couche à l'horizontal pour que l'eau s'évapore. Ça m'interrompt, mais ce n'est pas un obstacle ».
Jean-François adore travailler en montagne, parce que « c'est excellent pour la santé ! » et parce que le résultat est souvent inattendu : « en amenant une toile au sommet, des fois tu l'échappes, tu l'accroches dans une épinette, etc. Ça déclenche des idées, ça fait partie de l'aventure et ça donne toujours des tableaux plus spontanés, plus vivants et plus intéressants ». Il ajoute que les gens viennent souvent le voir pour être intégrés à l'oeuvre, ce qui crée une interaction et une dynamique influençant aussi le travail en cours. Un peintre extrême Jean-François Racine ? Plutôt un passionné, qui aime peindre son époque, par souci ethnologique. Celui qui a passé environ soixante-deux jours à capter l'atmosphère du Massif l'hiver dernier affirme qu'il ne se lasse pas et qu'il en a pour plusieurs années avant de faire le tour : « je n'ai pas l'impression de manquer de sujets, car il y a toujours des nouveautés et Le Massif c'est trois montagnes, alors ça ouvre la porte à un monde infini de possibilités ! »
Michel Flageole, Flagworld

A formidable artist has produced an extraordinary canvas for the 24h Tremblant event. For 24 hours (excluding two short stops to eat), on a platform made available to him by the organization of the 24h Tremblant, Jean-François Racine of Baie-Saint-Paul painted a huge canvas which was put up for auction at the end of the event.
In the end, a sum of $25,000 was collected for the Charles-Bruneau Foundation, a bet that came from the young retiree and ex-Montreal Canadian player, Stéphane Quintal, and anonymous friends. The magnificent canvas will be on permanent display at the Charles-Bruneau Pavilion of the Sainte-Justine Hospital with a plaque bearing the names of the generous donors. Moreover, Mr. Racine has promised to make a miniature replica of this fresco for the donors. We are pleased to offer you a small photo album representing this splendid canvas measuring twelve feet wide by six feet high.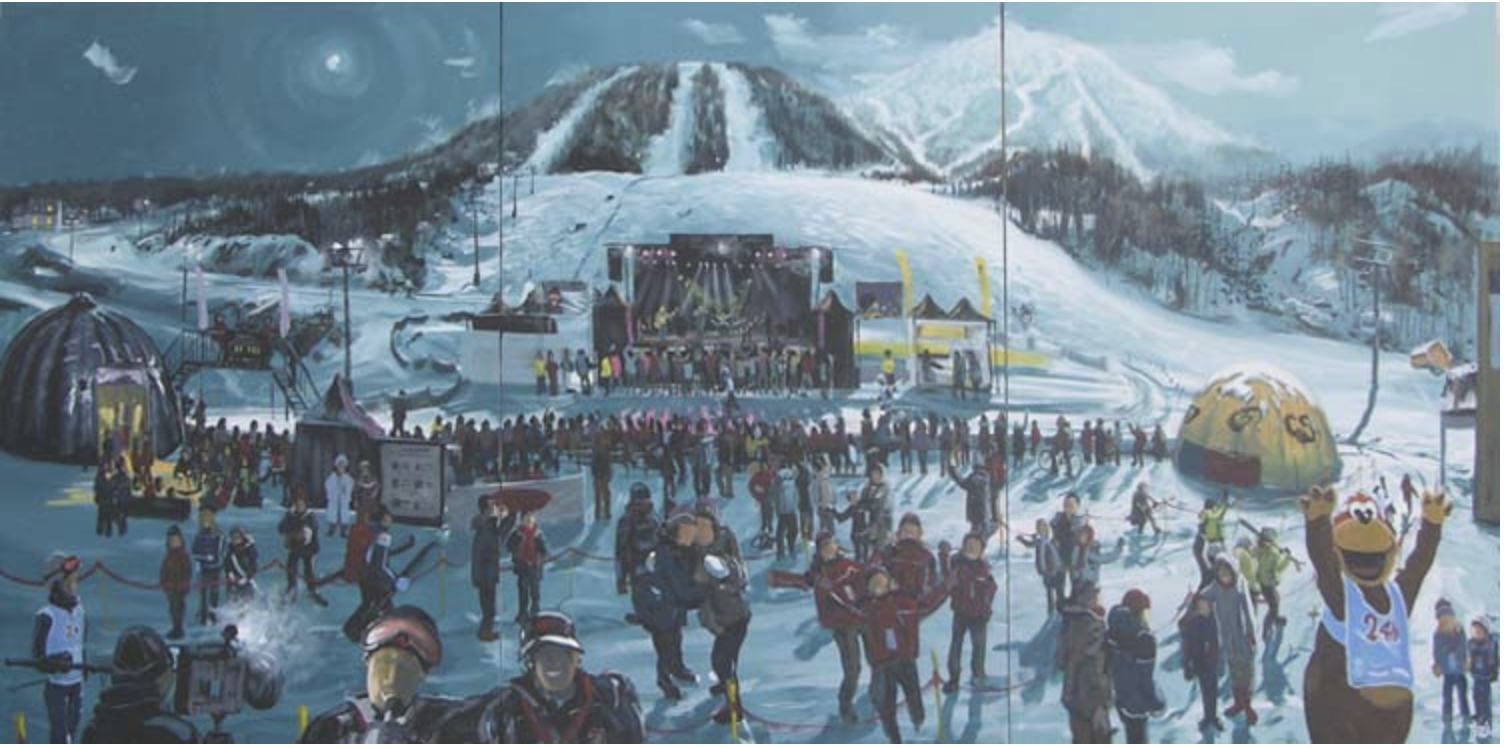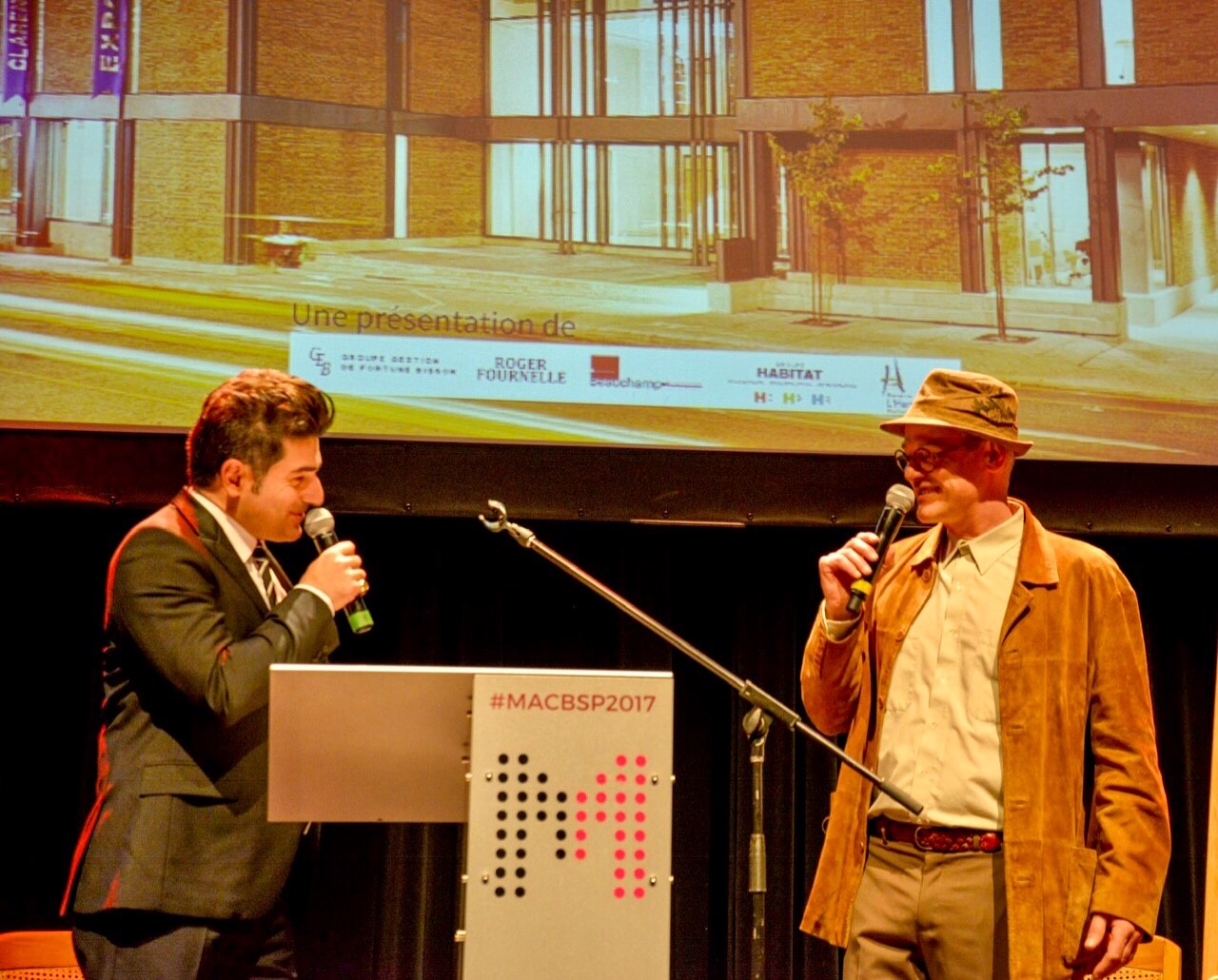 Auctioneer and co-host of the fundraising cocktail from 2014 to 2017 at the Musée d'art contemporain of Baie-Saint-Paul with Patrick Masbourian.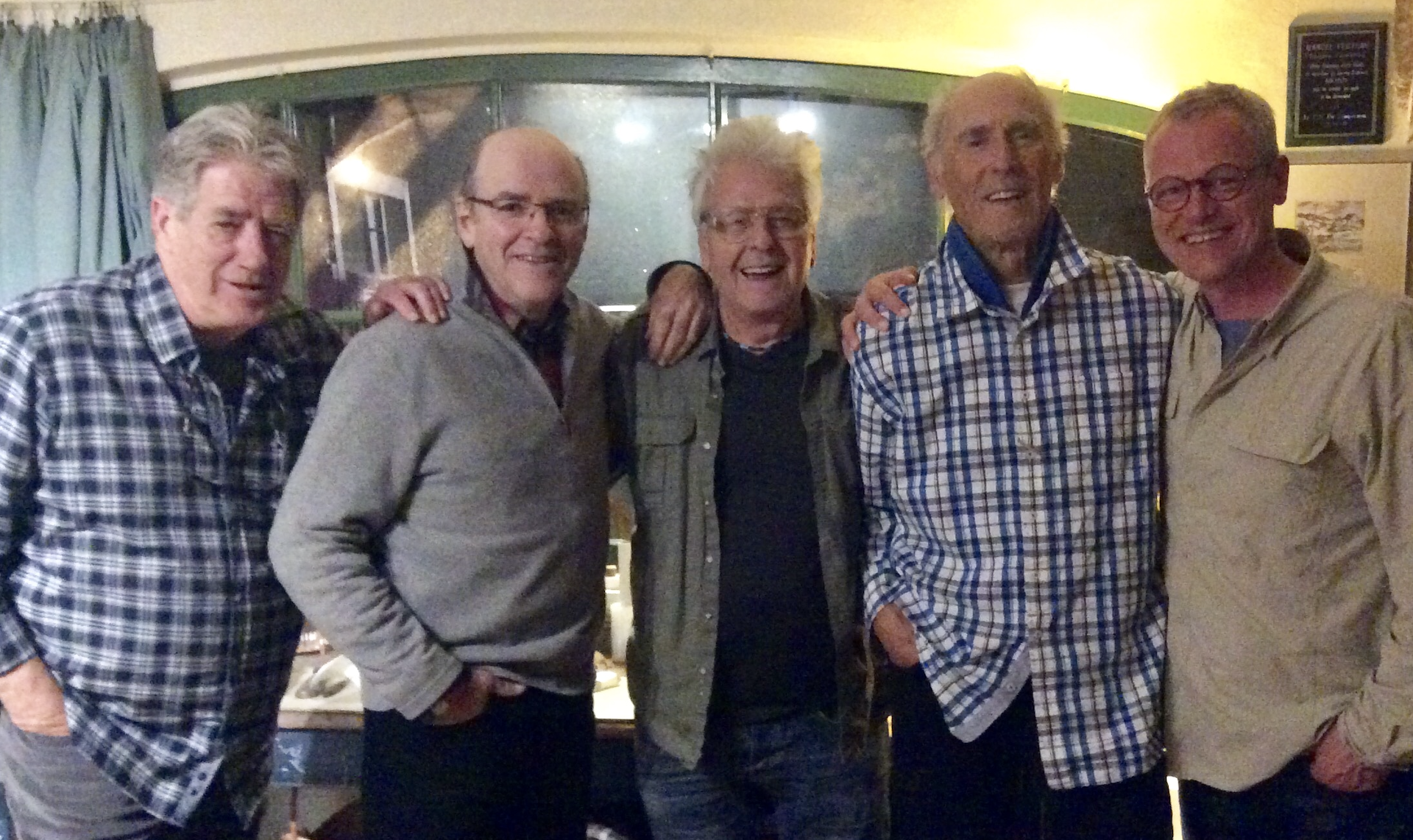 In Marcel Fecteau workshop. From left to right, Louis Tremblay, St-Gilles, Marcel Fecteau, Jacques Hébert and Jean-François Racine.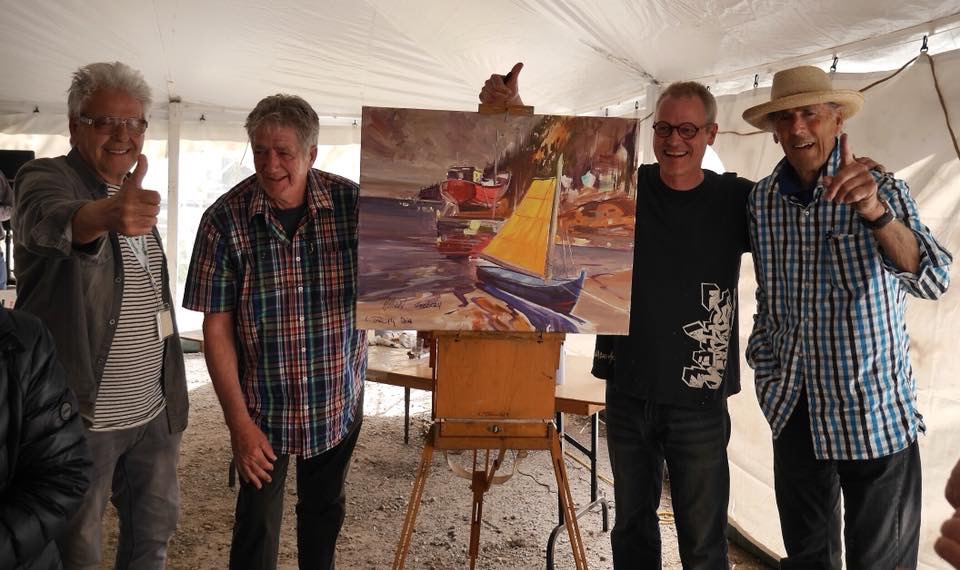 Combat des peintres of Chesterville. From left to right, Marcel Fecteau, Louis Tremblay, Jean-François Racine and Jacques Hebert.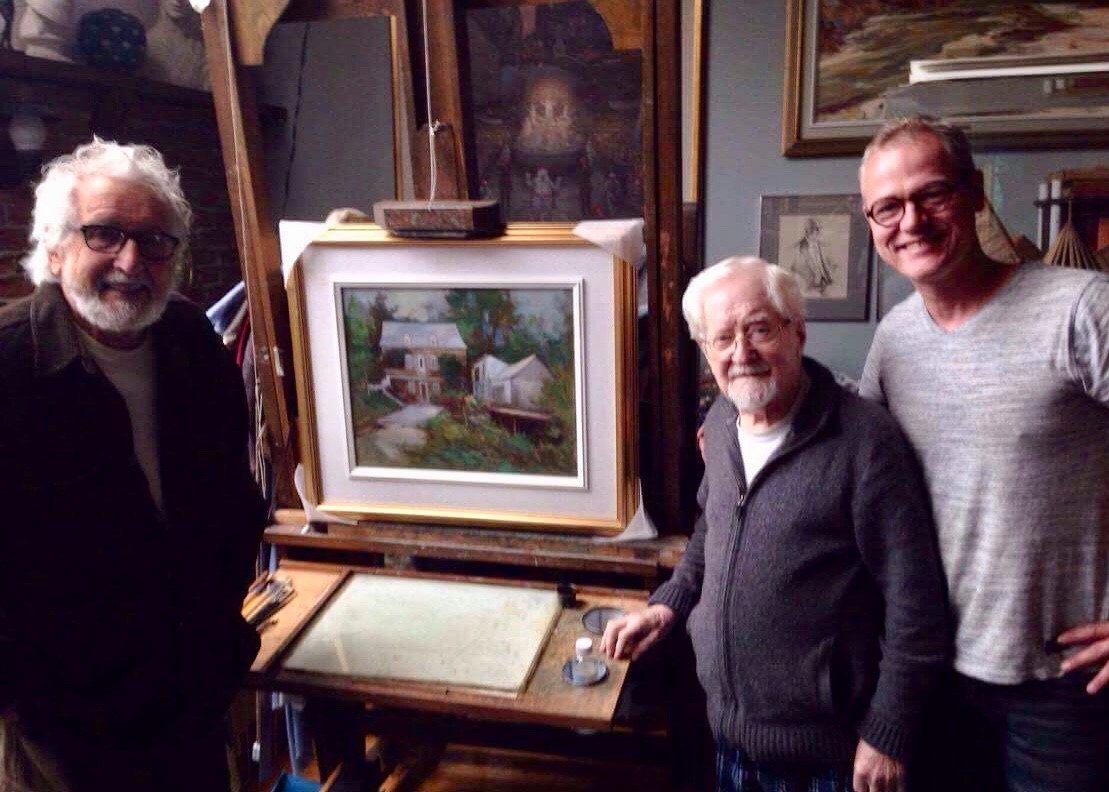 In Humberto Bruni's studio in front of his last unfinished work, the Old mill on the Michel stream in Baie-Saint-Paul. From left to right, Georges Dedoyard, Humberto Bruni and Jean-François Racine (2019).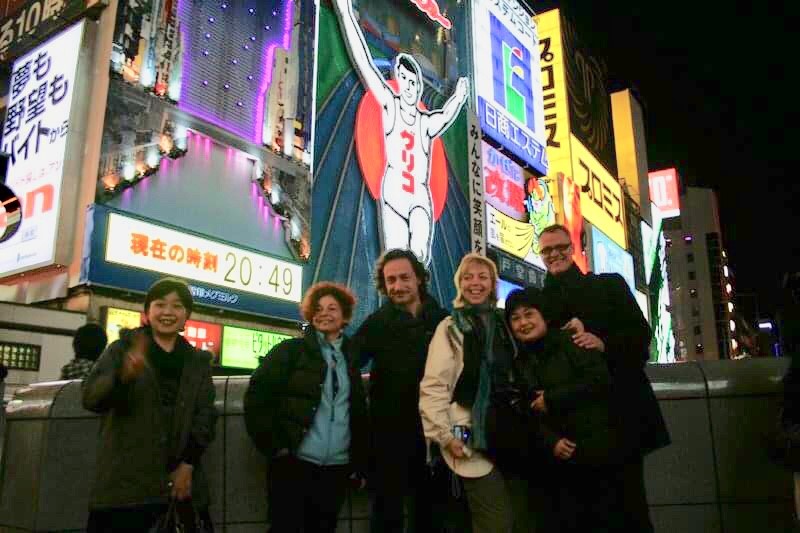 Two expositions in Japan with Canadian artists. From left to right, Chantal Ouellet, Benoit Lévesque, Chantal Julien and Jean-François Racine (Sakai, Japan, 2012).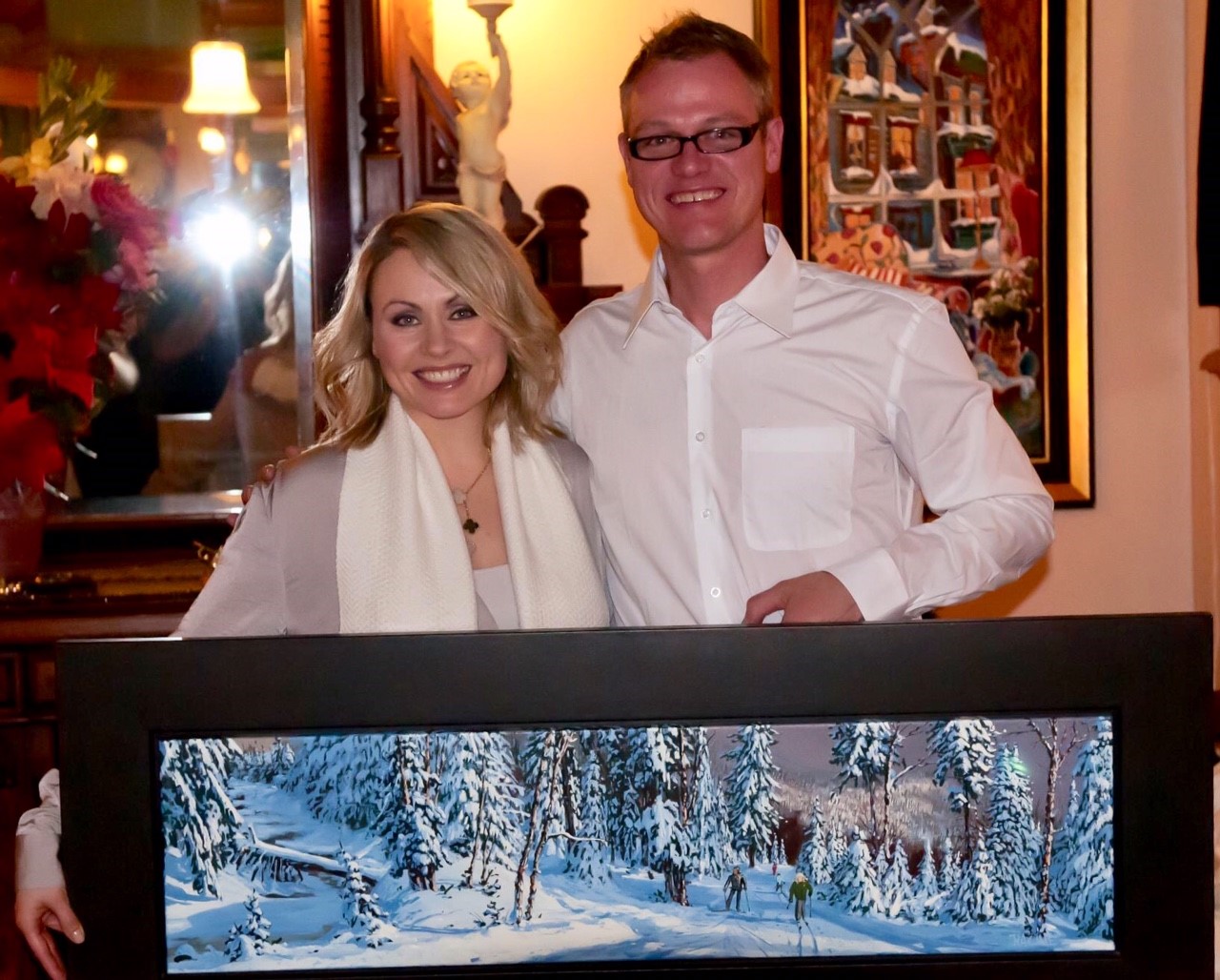 Realization of a painting during the filming of La Petite Séduction, accompanied by Mitsou and his family on skis (Charlevoix, 2011).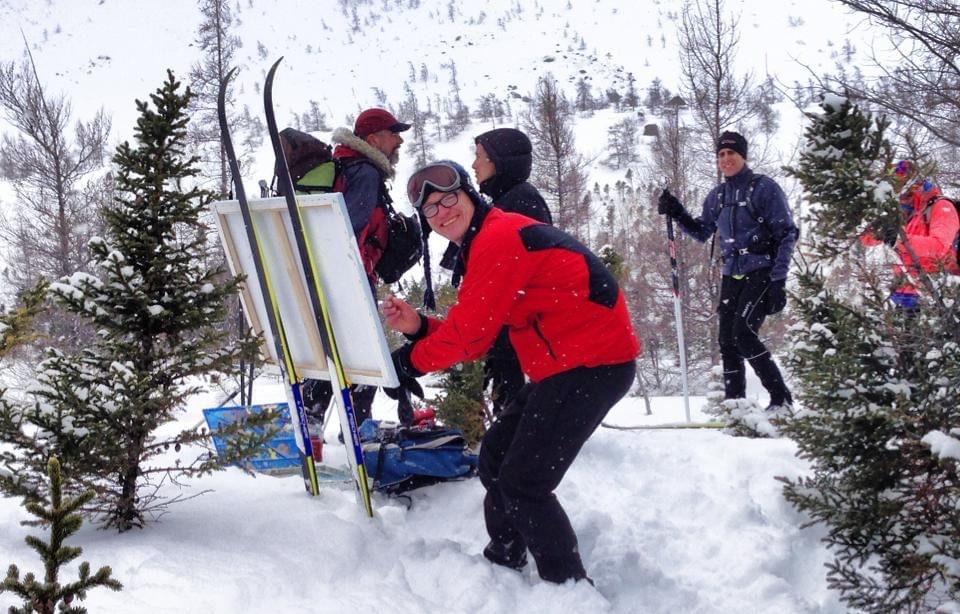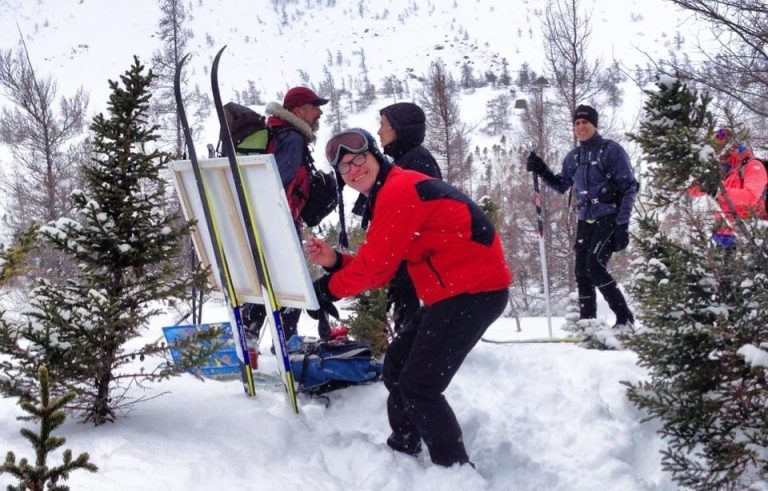 Live performance during TDLG (Mont Albert, Gaspésie, 2014).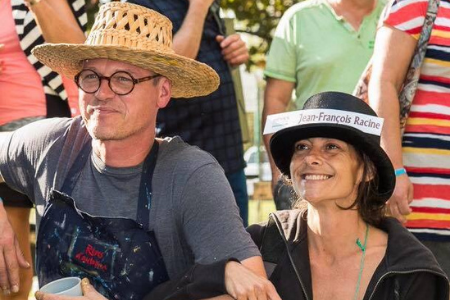 Racine and his lover, Suzy Levesque, in the middle of an auction of one of his works on the occasion of Rêves d'automne (Baie-Saint-Paul, 2017).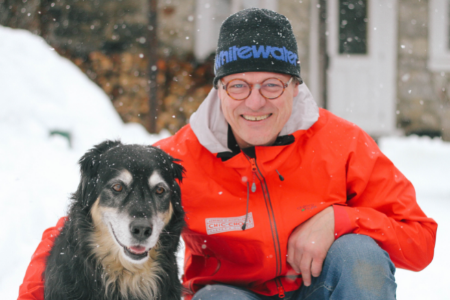 Jean-François Racine with his old Mamu in front of the Michel mill (Baie-Saint-Paul, 2019).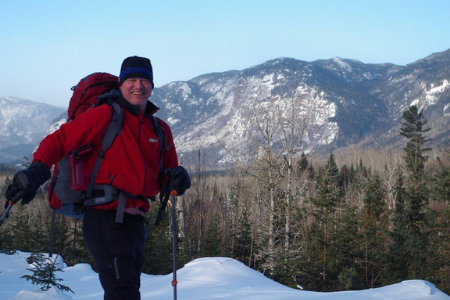 Jean-François in search of new inspirations while crossing Charlevoix (Parc national des Hautes-Gorges-de-la-Rivière-Malbaie, 2019).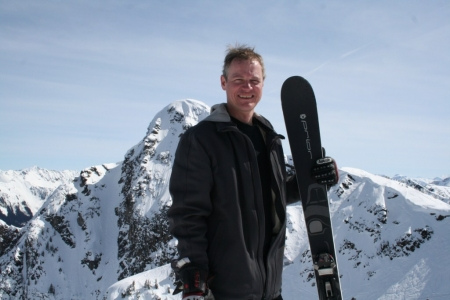 At the top of Mount MacKenzie, working on the BC Ski Areas exhibition produced and presented as part of the Vancouver Olympics (Revelstoke, 2010).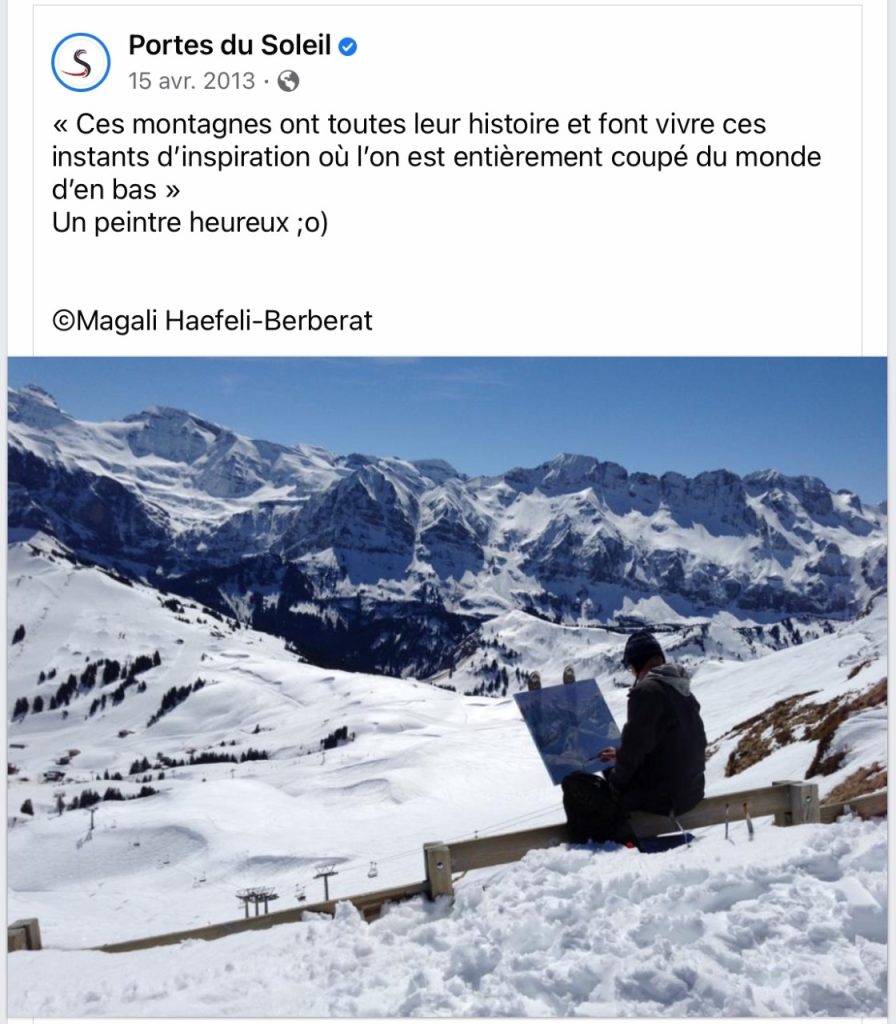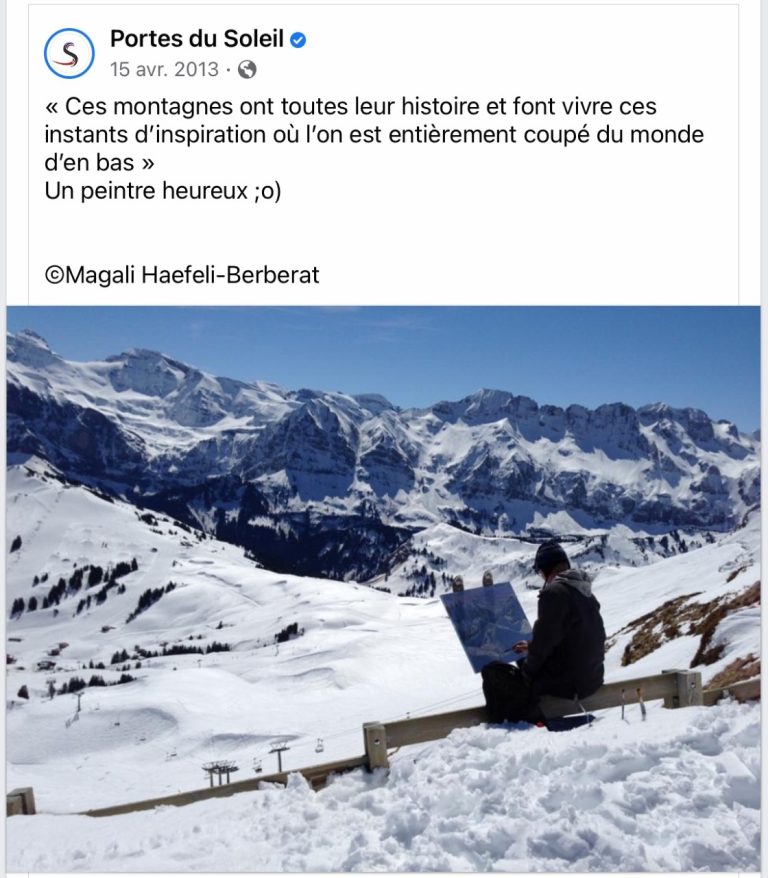 Seen in les Portes du Soleil (Switzerland-France, 2013).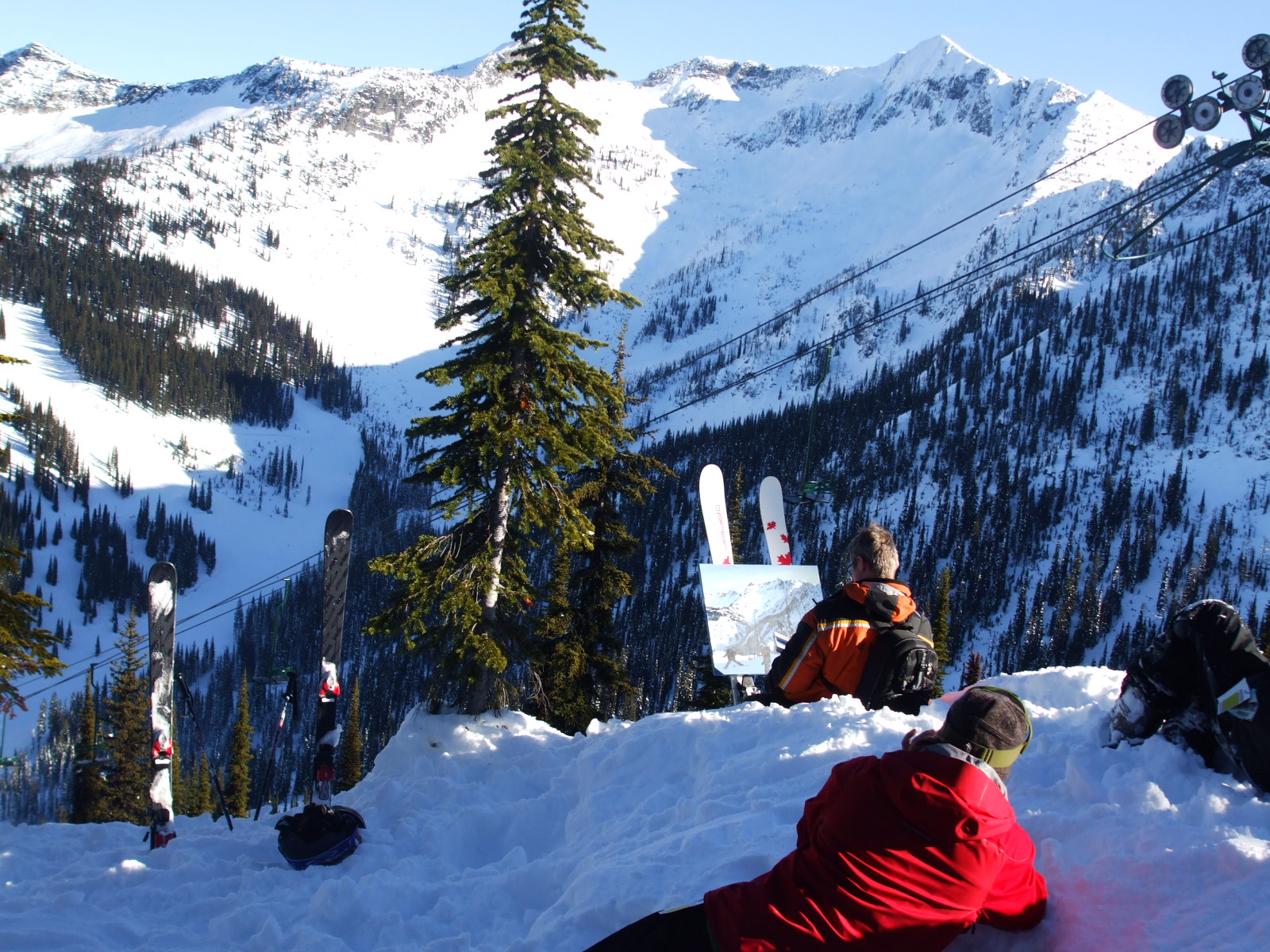 Painting in Whitewater (Nelson, BC. 2009).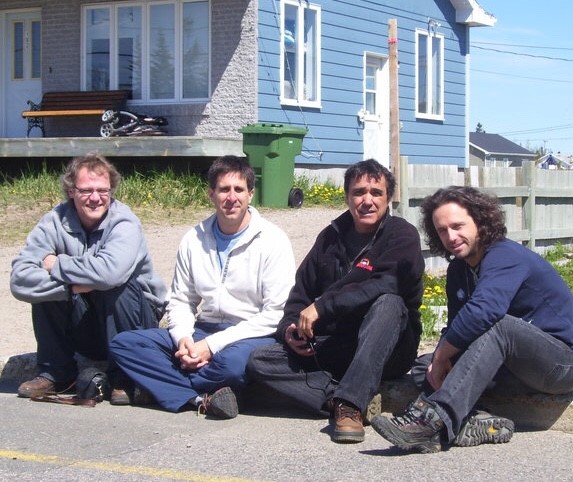 Tour of schools on the North Shore from Uashat to Natasquan. From left to right, Jean-François Racine, Francois Grégoire, Florent Vollant and Mario St-Amand (Maliotenam, Côte-Nord, 2006)